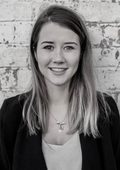 Kelsi started at Auckland Sports Podiatry as a patient with shin splints, and later joined the team as our practice manager. She has a love for sports, particularly running and triathlon, has completed a 50k ultra trail run and is currently training for a half ironman.
Kelsi has an understanding of the importance of biomechanics and ways to reduce injury, as she has had a few herself. She is always learning from our team which means you are in great hands when you call the clinic to make an appointment, as Kelsi will ensure you are booked in for the right type of appointment.
You may have seen her around before, as on the weekends she is an event photographer for all things running and triathlon in the North Island!